Did you know that the weight of your tennis shoes can have a significant impact on your game? In this comprehensive guide, we'll take a look at the different factors to consider when choosing a pair of tennis shoes and answer the question: how much do tennis shoes weigh? We'll also provide tips for finding the perfect pair of shoes for your needs. So, whether you're an experienced player or just starting out, read on for all the information you need to make the best choice for your next match.
How Much Does a Typical Tennis Shoe Weigh? 
The weight of a typical tennis shoe can vary depending on the size and materials used. However, most tennis shoes typically weigh between 11 and 13 ounces. This is relatively light when compared to other types of athletic shoes such as running shoes, which can weigh up to twice as much.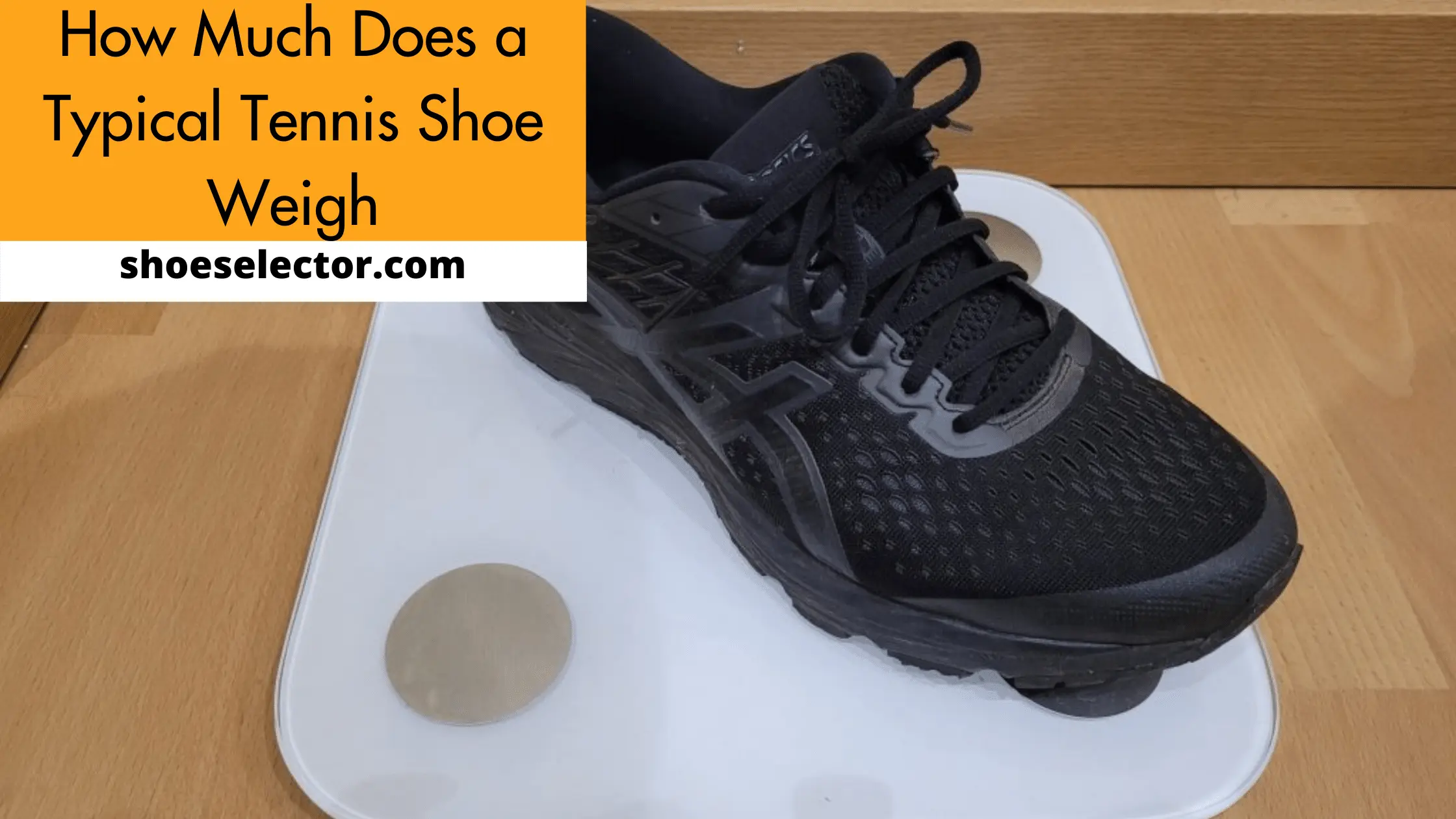 What Are the Benefits of Lighter Tennis Shoes?
There are several benefits to wearing lighter tennis shoes. One is that they can help improve your speed around the court. Lighter shoes also put less strain on your feet and legs, which can help you avoid injuries. Additionally, they tend to be more comfortable than heavier shoes and provide better breathability, keeping your feet cool during long matches.
What Factors Affect How Tennis Shoes Weigh?
The weight of tennis shoes can be affected by the materials used in their construction, as well as the weight of the person wearing them. Tennis shoes made with lightweight materials, such as mesh and foam, will weigh less than those made with heavier materials, like leather. And a person's weight will also affect how heavy his or her tennis shoes are, since heavier people generally require shoes with more support and cushioning.
Do Heavier or Lighter Tennis Shoes Affect Your Playing Performance?
Heavier tennis shoes will provide more stability and support, while lighter tennis shoes will allow you to move faster. So it really depends on what you are looking for in a pair of tennis shoes. If you want more stability and support, then go for a heavier pair of shoes. If you want to be able to move around more quickly, then go for a lighter pair of shoes.
How Can You Find the Right Pair of Tennis Shoes That Fit Your Weight and Playing Style?
To find the right pair of tennis shoes that fit your weight and playing style, it is important to consider a few factors.
First, you will want to think about the type of surface you will be playing on. Tennis shoes are made for different types of surfaces clay, grass, or hard courts. Each surface requires a specific type of shoe in order to provide the best traction and stability.
Second, you will want to consider how much weight you plan on putting on your shoes. The heavier the person, the more durable and supportive the shoe needs to be. There are also shoes designed specifically for overweight or obese individuals.
Lastly, you should consider your playing style. If you plan on doing a lot of running, you will want a lighter shoe that can provide good breathability. If you are a power player who hits the ball hard, you will want a heavier shoe that can provide more support and cushion.
By taking all of these factors into consideration, you can be sure to find the perfect pair of tennis shoes for your needs.
What Are Some of the Largest and Smallest Tennis Shoe Brands on the Market?
There are a lot of different tennis shoe brands on the market, and they come in all shapes and sizes. Some of the larger brands include Nike, Adidas, Asics, Puma, and Brooks. Whereas some of the smaller brands include Skechers, K-Swiss, Fila, New Balance, and ecco.
Each brand has their own unique set of features and benefits that set them apart from the competition. So it really comes down to personal preference when it comes to choosing which brand is right for you.
What Should I Look for When Choosing a Pair of Tennis Shoes?
When choosing a pair of tennis shoes, there are several factors to consider.
1. Type of Court: 
The type of court you'll be playing on will have a big impact on the type of shoe you need. For example, if you're playing on clay courts, you'll need a shoe with good traction to avoid slipping. Hard courts require a shoe that can withstand the wear and tear of repeated impacts.
2. Type of Player:
Are you an aggressive player who likes to run around the court? Or are you a more strategic player who takes a more relaxed approach? Your play style will dictate the type of tennis shoes you need.
3. Size and Fit: 
It's important to choose a tennis shoe that fits well. Be sure to try them on before making a purchase. You should also consider the width of your feet when selecting a pair of shoes.
4. Comfort: 
Tennis shoes should be comfortable to wear, even during long matches. Look for shoes with padded soles and good arch support.
5. Price: 
Tennis shoes can range in price from around $50 to $200 or more. It's important to find a shoe that fits your budget while also meeting your needs.
With so many factors to consider, it can be tough to choose the right pair of tennis shoes. But by keeping these tips in mind, you'll be sure to find a shoe that's perfect for your game.
Conclusion:
So, what have we learned? Tennis shoes come in a variety of weights and sizes. The weight of your tennis shoe will affect how you play the game. Lighter tennis shoes are better for speed while heavier tennis shoes provide more stability. If you're looking for a good all-around tennis shoe, it is best to find one that falls in the middle weight-wise. Be sure to try on several different pairs of shoes before making your purchase to ensure the best fit possible!