If you're a fan of sneakers, you may have heard the term "deadstock shoes" before. In the world of fashion, there are many terms and phrases that can be confusing for those who are not familiar with the industry. One such term is "deadstock."  But What is Deadstock Shoes? And why are they so popular? 
Deadstock shoes are shoes that have never been worn before. They're called "deadstock" because they've been kept in a warehouse or storeroom and have never made it to the shelves to be sold. They're usually collector's items or limited-edition models, and because they've never been worn, they retain their original condition and quality. That's why sneaker collectors and fans love them so much! 
If you're lucky enough to find a pair of deadstock shoes for sale, be prepared to pay a high price tag. But for many people, it's worth it to get their hands on a pair of rare sneakers that nobody else has ever worn. Deadstock shoes come in a variety of styles and colors, so if you're looking to stand out from the crowd, these unique kicks might just be what you need. 
Keep reading to learn more about deadstock shoes and where you can find them!
What Makes These " Dead Stock Shoes" So Popular?
For sneakerheads, deadstock sneakers are the Holy Grail. These sneakerheads collect deadstock sneakers for their personal rotation, others see it as an investment. The resale market for deadstock sneakers is booming, and some people are making serious profits flipping these shoes.
These are sneakers that have never been worn and are often still in their original box. They're highly coveted because they're essentially brand new shoes, and sometimes even rare or discontinued models.
So What Makes These " Dead Stock Shoes" So Popular?? Part of it has to do with the exclusivity factor. These are shoes that are often very difficult to find, and that adds to their value & popularity. 
Whether you are a fashionista or just someone who likes to be comfortable, there is a pair of sneakers out there for you. And if you are a sneakerhead, then you know all about deadstock sneakers.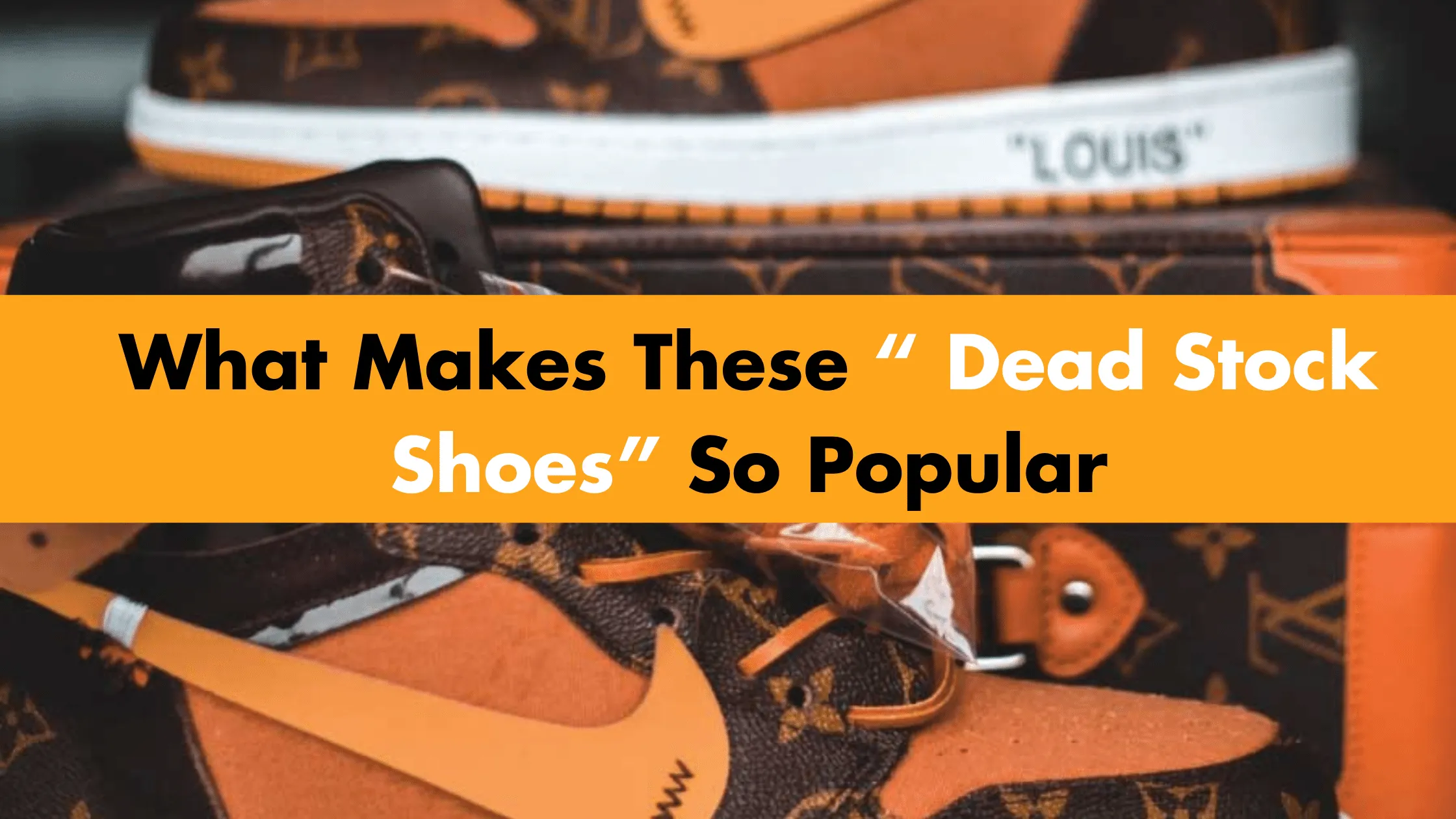 Some Features Of  Deadstock Shoes You Must Know Before You Buy!
When it comes to shoes, the term "deadstock" is used to describe shoes that are no longer being manufactured. Deadstock shoes are often highly sought after by sneakerheads and collectors because they are rare and often unavailable for purchase.
There are a few things you should know before you buy deadstock shoes. Here are some features of deadstock shoes you need to know before you make a purchase:
 Deadstock shoes are often more expensive than regular shoes. This is because they are rare and no longer in production.
These Deadstock shoes may not be available in your size.
These shoes are shoes that have never been worn and are no longer being produced. This means that they are often a limited edition or hard-to-find style.
They may not be covered by a warranty
They may not be available in the style you want.
How To Know If Deadstock Sneakers Are Original One?
Figuring out if your deadstock sneakers are real can be a tough task. But don't worry, we're here to help. In today's world, it can be hard to know what's real and what's fake. With so many counterfeits on the market, it's important to know how to spot the real thing. There are a few things you can check for to see if your sneakers are the real deal. 
One obvious clue is the sole of the shoe. If there's an obvious sign of dirt or a missing star at the bottom, it's likely that the sneaker is not authentic. You can also check for scuff marks or cuts on the toe or sole of the pair. 
Take a look at the laces. If they're untied, that's another sign that your sneakers might be fake.
Check out the insole. If there's any missing letter or icon on the shoe print, that may be the sign that the sneaker is not a real one.
Where Can You Get Deadstock Sneakers?
It can be tough to get your hands on deadstock sneakers. Unless you have a sneaker bot, you're likely to miss out on the most hyped releases. But there are still plenty of ways to get deadstock sneakers if you know where to look.
You can purchase them directly from online stores or select retailers who have a direct supply. However, be aware that even at local retail stores, there's a chance the sneaker has been tried on and returned. Many people will wait in line for hours outside of stores in the hopes of snagging a pair. You can also try your luck with online raffles.
Many brands will sell deadstock sneakers directly through their website. This is often the best way to guarantee that you're getting a pair of shoes that haven't been worn or returned. However, it can be tough to keep up with all the release dates and drop times.
Conclusion!
Hopefully, this guide about " What Are Deadstock Shoes?" has explained enough to make you understand the worth of deadstock sneaker/shoes.  Deadstock shoes are a great way to get high-quality, stylish sneakers without spending a lot of money. With careful shopping, you can find the perfect pair of deadstock shoes that will last for years to come. But once you find the real deadstock shoes, you'll be happy to keep & wear them.