What's the meaning behind UA in shoes? It can be a bit confusing when people see "UA" on their favorite sneakers. What does it mean and what is Under Armour, the company that makes UA products? This blog post will answer these questions and more!
Who Is Under Armour?
Under Armour, Inc. are a global designer and developer of performance footwear, apparel and equipment. The company's mission statement is to make all athletes better through passion, design and the relentless pursuit of innovation. Under Armour was established in 1996 by Kevin Plank in Washington D.C. It started as a small company and has grown into a billion-dollar company with distribution in all 50 states. Under Armour's products are sold worldwide to athletes at all levels. The brand is big, especially here on the East Coast!  
Does UA Make Shoes? What Kind Of Shoes Do They Make?
Under Armour has become one of the biggest brands in footwear as well. UA currently makes running shoes, basketball sneakers, tennis shoes, cross-training shoes and boots.
What Are Under Armour Shoes?
Under Armour is the brand name of the performance footwear manufactured by this American company. The word "Under" signifies undershirt, while "Armour" is used to describe protection against injury.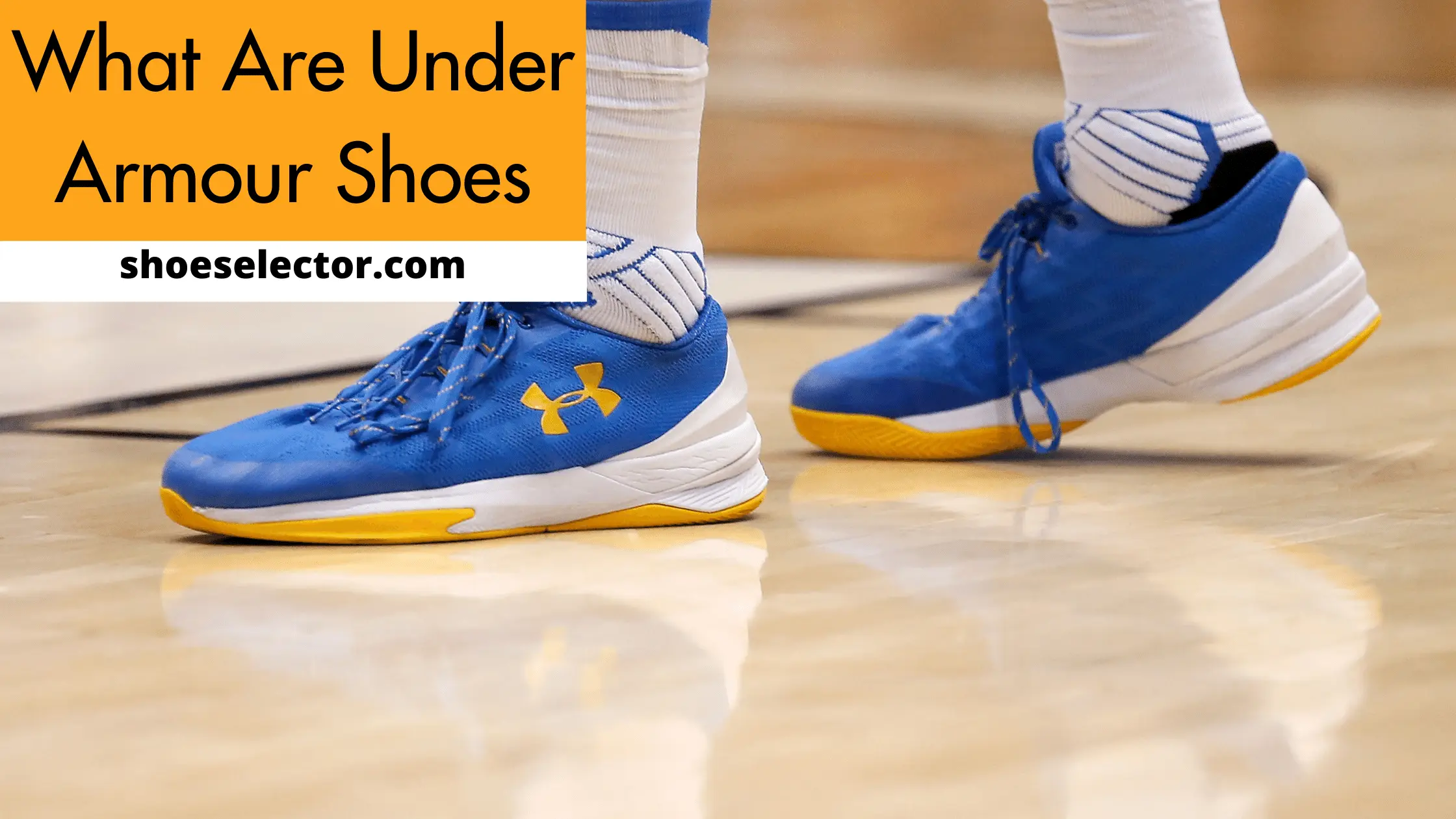 Main Features Of UA Shoes:
Under Armour running shoes are developed for both men and women to provide ample protection against injuries during intense exercises. The main features that make UA running shoes unique include:
Flexible upper material made of lightweight material, the upper is comfortable and perfect for intense exercises. It is also moisture-resistant and enables easy movement. Perfect for runners who prefer speed and agility and may sweat a lot during their workouts. Supportive midsole The unique design of the UA running shoe gives it impressive shock absorption properties, which protect feet from injuries such as sprains and strains. These shoes are perfect for those who need strong arch support. In addition, they also have a lightweight midsole that keeps the foot balanced and protected from pain during intensive workouts. Rubber outsole UA running shoes feature a rubber sole to provide sufficient grip on different surfaces. This is great for any kind of sports activity indoors or outdoors, including basketball.
Why Are UA Shoes So Popular?
UA shoes are extremely popular because they have the power to maximize athletic performance. In addition, UA is known for designing innovative products that meet high standards of quality and comfort. The company's footwear has been recognized not only by athletes but also by trainers and sports gear manufacturers.
Where Can I Buy A Pair Of UA Sneakers?
Under Armour, shoes are available in all leading retail outlets and sporting goods stores across the country. You can also buy UA products from authorized dealers or retailers on Amazon.com.
How Much Do They Cost?
UA shoes for men and women can be purchased in a price range of $40 to $300.
Some of the most popular UA footwear items include:
Men's Micro G® Assert 6 Running Shoe (starting at $69.99) This is an excellent running shoe that comes with a stylish design and is extremely comfortable. It has more than 300 reviews on Amazon and the average rating is 4.7 out of 5 stars Men's Ua Speedform Slingride Running Shoe (starting at $92.99) This ultra-lightweight running shoe features a sock-like construction for superior comfort and stability.
It also has a rubber sole to provide good grip and cushioning. Women's Speedform Slingride Running Shoe (starting at $74.99) This is the female version of the Speedform Slingride running shoe for men, which offers a comfortable fit and lightweight design.
Are There Any Disadvantages To Wearing Them?
As with most footwear available today, Under Armour shoes also have some disadvantages. Some of the most notable ones are:
Poor Durability:
The upper fabric is not breathable and it tends to wear out quickly. This shoe is less durable than other models in the same price range. 
Arch Support:
The UA shoes do not have much flexibility and might be uncomfortable for people with high arches. Insufficient arch support can be a problem for those who need strong arch support.
Clunky Appearance:
Although the design of the UA shoes is sleek and stylish, they may appear rather bulky. This can be a problem when you need lightweight footwear. 
Lack Of Durability In The Toe Area:
People who regularly use their UA shoes for intense workouts may notice that the toe area wears out quickly. The rubber material starts to chip off and affects the appearance of shoes after a few months of prolonged use.
What Do Customers Who Buy UA Shoes Say?
Positive customer reviews for the UA running shoes mention that they are comfortable, provide sufficient cushioning and protection from injuries. The upper fabric is also claimed to be very breathable and people appreciate that they dry quickly after a run. There have been cases of small sizing so it's recommended to order a larger size.
Negative reviews point out the poor durability of these shoes, which makes them a bad investment in the long run. Some people complain that UA sneakers lack arch support and may not be suitable for those who need strong support. In addition, they are bulky and heavy. There have been cases of the upper fabric ripping off from the sole. The rubber material on the toe area starts to chip off after a few months of use.
How Are The UA Shoes Different From Other Brands?
UA footwear offers high-quality running shoes that provide superior comfort, support and cushioning compared to other brands. They look stylish too! However, their main disadvantage is their poor durability which means they are not a good choice for regular runners.
What Happens If You Return UA Shoes?
You can contact the store or Amazon where you purchased your Under Armour shoes to find out their return policy. Some retailers offer gift cards for customers who want to exchange defective products. Other stores accept returns within 30 days of purchase. If you bought your UA shoes on Amazon, you can contact Amazon directly.