Are you looking for a way to seal acrylic paint on leather shoes? If so, you're in the right place! Sealing acrylic paint on leather shoes can be a daunting task. There are many different methods and sealers out there, but which one is best for your project? 
In this blog post, we will walk you through the best way to seal acrylic paint on leather shoes using a matte spray sealer. We will also discuss some of the benefits and drawbacks of using this method. So, whether you are a beginner or an experienced painter, read on to learn more!
Let's Check Out The Steps To Paint Leather Shoes with Acrylic Paint
Ready to add a little personal flair to your footwear? It's time to break out the acrylic paint and get creative! Painting leather shoes is a great way to show off your personality, and it's surprisingly easy to do.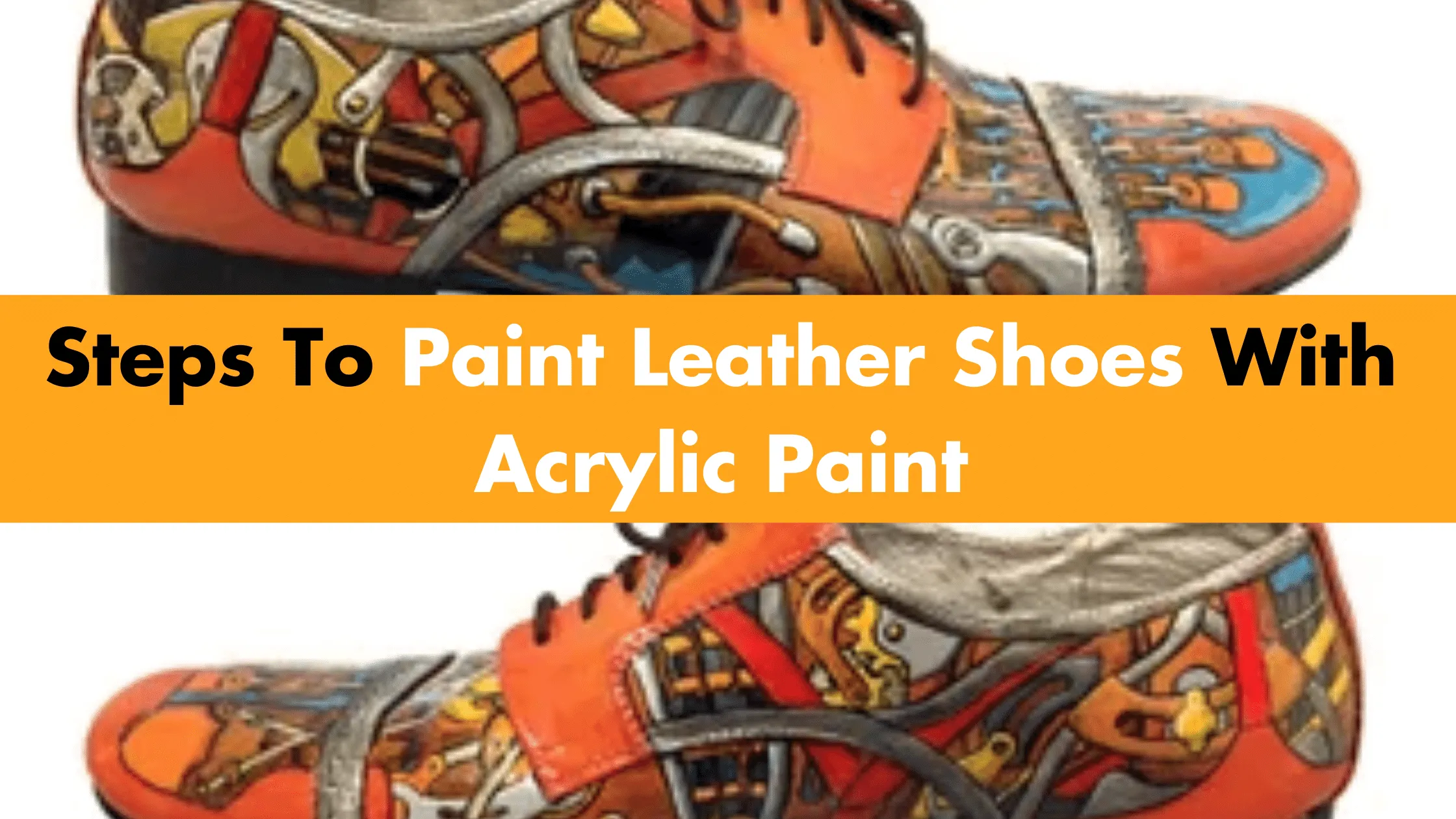 To get started, you'll need a few supplies. You'll need leather shoes that are clean and dry, acrylic paint in the colors of your choice, a paintbrush, and a sealant. Once you have your supplies gathered, follow these simple steps to turn your leather shoes into a work of art:
Step 1: Prep the Shoes
Acrylic paint is a versatile medium that can be used on a variety of surfaces, including leather. If you're looking to add a pop of color to your old shoes, here's how to prep the leather so your paint will adhere properly.
To start, you'll want to clean the shoes thoroughly. You can use a leather bleach and water solution or wipe the leather with isopropyl alcohol. Dampen a towel with the alcohol and wipe to remove oils, waxes, and other coatings on the leather surface. Using isopropyl alcohol should help your paint stick to the surface better.
Step 2: Sand Your Leather Shoes Before Painting
Before you start, you'll need to sand the shoes down to remove any glossy finish. Sandpaper with around 100-200 grit should do the trick. Just rub the shoes until the shine is gone, then wipe with a damp cloth.
Once the shoes are sanded, double-check that the leather surface is clean before starting to paint. Wipe it down with a damp towel or microfiber cloth to remove any dirt or dust. And don't forget to take the shoelaces out!
Now you're ready to start painting and give your shoes a whole new lease on life.
Step 3: Try a Leather Preparer and Deglazer
It's a fun and easy way to customize your shoes, and all you need is a leather preparer and deglaze to get started. This product is widely available in most craft stores, and the alcohol base allows it to dry quickly. Simply dip a towel into the preparer and deglaze and rub it into the leather surface. 
Apply a generous amount you don't need to worry if the color of the old leather changes, as some brands may do. Once you've applied the preparer and deglaze, you're ready to start painting!
Step 4: Apply the Paint
Step up your shoe game with a little leather prep and some acrylic paint. You can find both of these easily at any craft store, or even online. It's important to use acrylic paint specifically for leather any other type of paint may not absorb properly into the leather or could affect its flexibility over time and cause cracking. 
Once you have your supplies, simply thin out the paint by mixing it with an equal amount of water. This will help the leather absorb the paint better. 
Dip your brush into the bowl and apply the paint in thin, even layers. You might see the oil-based paint showing through at first, but don't worry it's normal! Just focus on getting even coverage and making long strokes.
It's easy to get started. Just make sure you have two coats of paint on hand. If you're not sure how many coats you'll need, apply the first coat and let it dry before adding another. Applying too much paint at once can cause cracking, so it's better to build up the color slowly.
Once you've applied the paint, flex the shoes back and forth to help prevent cracks. You may need to add additional coats until you achieve the desired shade. 
Step 5: Finish the Leather
After you have painted your shoes with acrylic paint, then you'll want to use a leather finisher to help seal in the paint and protect it from water or other weather conditions. There are many different finishes available, from high gloss to satin or matte, so you can choose the one that best suits your preferences. Applying the leather finisher is easy simply use a sponge brush to apply it in thin coats over the paint. Once you're finished, your shoes will have a smooth, professional-looking finish that will last for years to come.
How to Prevent Acrylic Paint from Cracking on Shoes ?
Who doesn't love a brand new pair of shoes? But when you pour your time and creativity into painting them, the last thing you want is for the paint to start cracking. Luckily, there are a few things you can do to prevent that from happening.
Acrylic paints are less likely to break than many other types, so that's always a good option. And if you're working with leather shoes, using leather paint will help to prevent peeling or chipping.
The top tip for painting shoes with acrylics is to create thin coats of paint. Too thick or too much too fast can cause cracking over time. Painting shoes in the direction of the flex coats can help prevent cracks. Whether you're painting leather or faux leather shoes, avoid mixing multiple paint brands. Using more than one brand could make the paint crack.
In The End!
Finally, we recommend using a sealant to protect the paint and keep it looking fresh. There are many different sealants on the market, but we suggest using a spray-on acrylic sealant like Mod Podge. This will help to protect your work and keep your shoes looking great for years to come! Have you ever sealed your painted shoes? What type of sealant did you use?