Slips and falls are the leading cause of unintentional injury in the United States, so it's important to take steps to make sure your shoes don't contribute to this statistic. Luckily, there are a few things you can do to make your shoes non-slip. In this blog post, we'll discuss some tips and tricks for stopping slips and falls. Keep reading to learn more!
What are the Risks Associated with Slips and Falls in Shoes that have Become Wet or Icy?
Wet shoes can increase your risk of slips and falls. Traction is reduced when shoes are wet, so you're more likely to lose your balance and fall. In addition, wet shoes can cause you to slip on surfaces that wouldn't normally be slippery.
If you do happen to slip and fall while wearing wet shoes, there's a good chance you'll end up with some serious injuries. You could fracture your ankle, wrist, or pelvis, or even tear a ligament in your knee. So it's important to take precautions when walking in wet weather conditions, and always wear shoes that have good traction.
What are Some Tips for Making Shoes Non-slip in Winter Weather conditions?
One of the best ways to make shoes non-slip in winter weather conditions is by using a spray or wax specifically designed for this purpose. You can find these products at most hardware stores or online.
Another option is to sprinkle some sand or salt on the ground before you walk. This will help increase traction and prevent you from slipping. Just be sure to clean up any sand or salt afterwards so that it doesn't damage your flooring.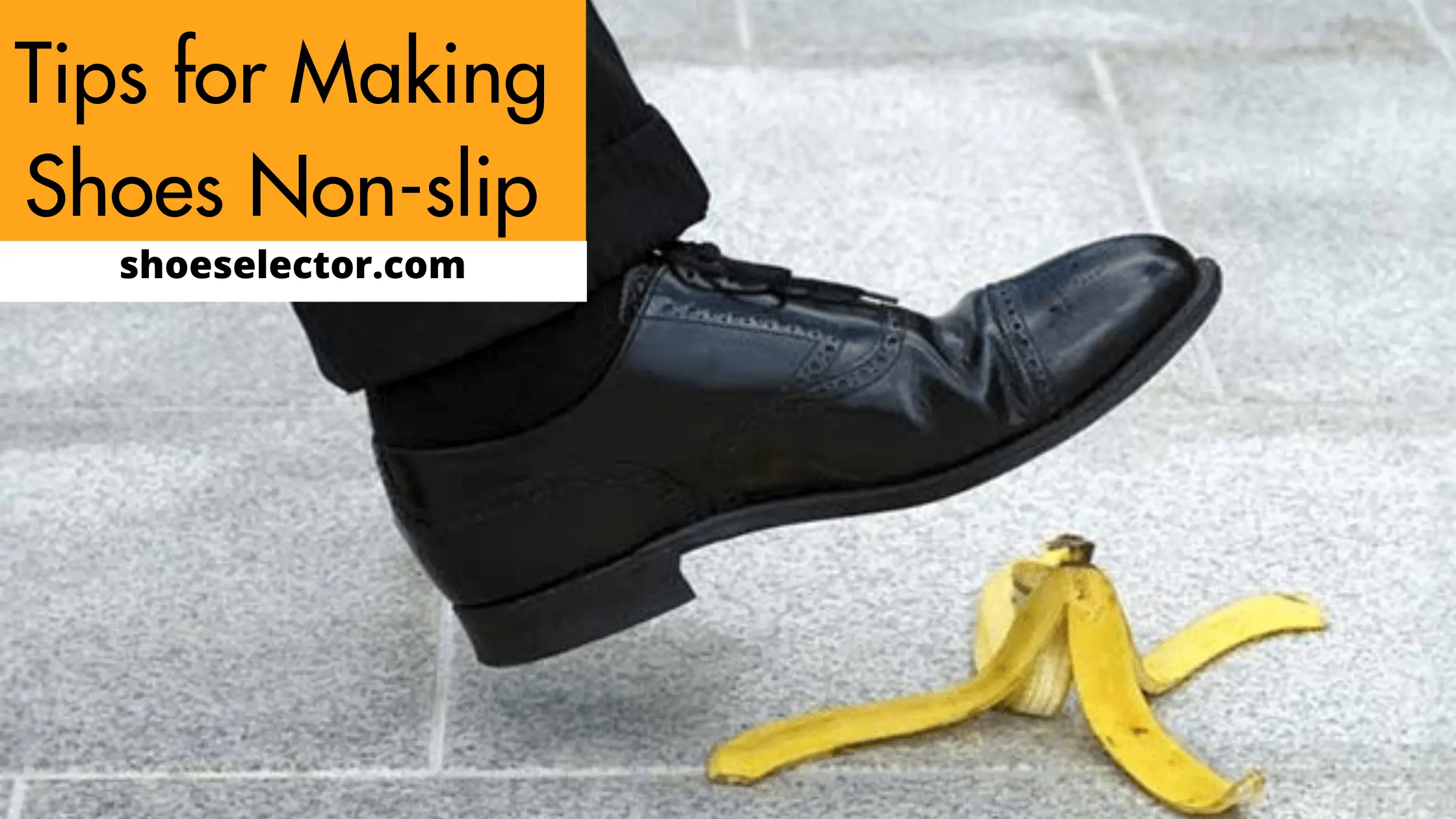 How can you Make your Home a Safe Environment for Walking in Slippery Conditions Indoors and Outdoors?
There are a few things you can do to make your home a safe environment for walking in slippery conditions. First, make sure you have good lighting in your home, especially in the areas where you will be walking.
Second, install non-slip mats or rugs in key areas where you might slip, such as in the bathroom and around the kitchen. Third, avoid wearing shoes with slick soles inside your home.
And finally, be aware of your surroundings and take your time when walking in slippery conditions. If it's too dangerous to walk at all, consider using a wheelchair or walker until conditions improve.
Are there any Additional Measures that can be Taken to Prevent Slips and Falls, Such as using Shoe Traction Aids or adding Grip Tape to Shoes?
Some additional measures that can be taken to prevent slips using shoe traction aids and adding grip tape include:
Keeping shoes clean and free of debris
Checking the condition of shoes and replacing when necessary
Ensuring good foot hygiene, including washing feet regularly and drying them thoroughly
Wearing socks that fit well and do not bunch up inside shoes
Adjusting shoe size as needed to ensure a snug fit (particularly when using overshoes)
How do you Properly Maintain Footwear to keep them from Becoming Slick Over Time?
There are a few things you can do to help keep your shoes from becoming slick over time. First, make sure to polish them on a regular basis using good-quality shoe polish.
Second, waterproof them using a good quality spray or wax. Third, store them in a dry place when not in use.
Finally, avoid leaving them in direct sunlight for extended periods of time. Following these simple tips should help keep your shoes looking and performing their best for years to come
Can Special Inserts be Purchased for Shoes in order to Increase Traction on Slick Surfaces?
There are a few options for increasing traction on slick surfaces. One option is to purchase special inserts for shoes that provide more traction.
Another option is to use "sticky" soles, which can be purchased or made at home using rubber bands or Velcro.
Finally, another option is to apply a substance to the bottom of your shoes that will increase traction, such as sand, salt, or cat litter. Whichever method you choose, make sure you practice walking on slippery surfaces in a safe area before venturing out into the real world.
Precautionary Measures:
Wearing the proper footwear for the activity
Checking the weather conditions before going outside
Keeping a watchful eye on your surroundings
Taking your time when walking in slippery conditions
Conclusion:
Slips and falls can be dangerous, especially in winter weather when ice and snow are on the ground. However, there are some simple precautions that you can take to make your shoes less slip-prone and to make your home a safe environment for walking. With a few easy changes, you can help keep yourself safe from slips and falls this winter. Have you tried any of these tips?